Quick Guide on Security Cameras Installation
Posted by SALMAN SIDDIQUE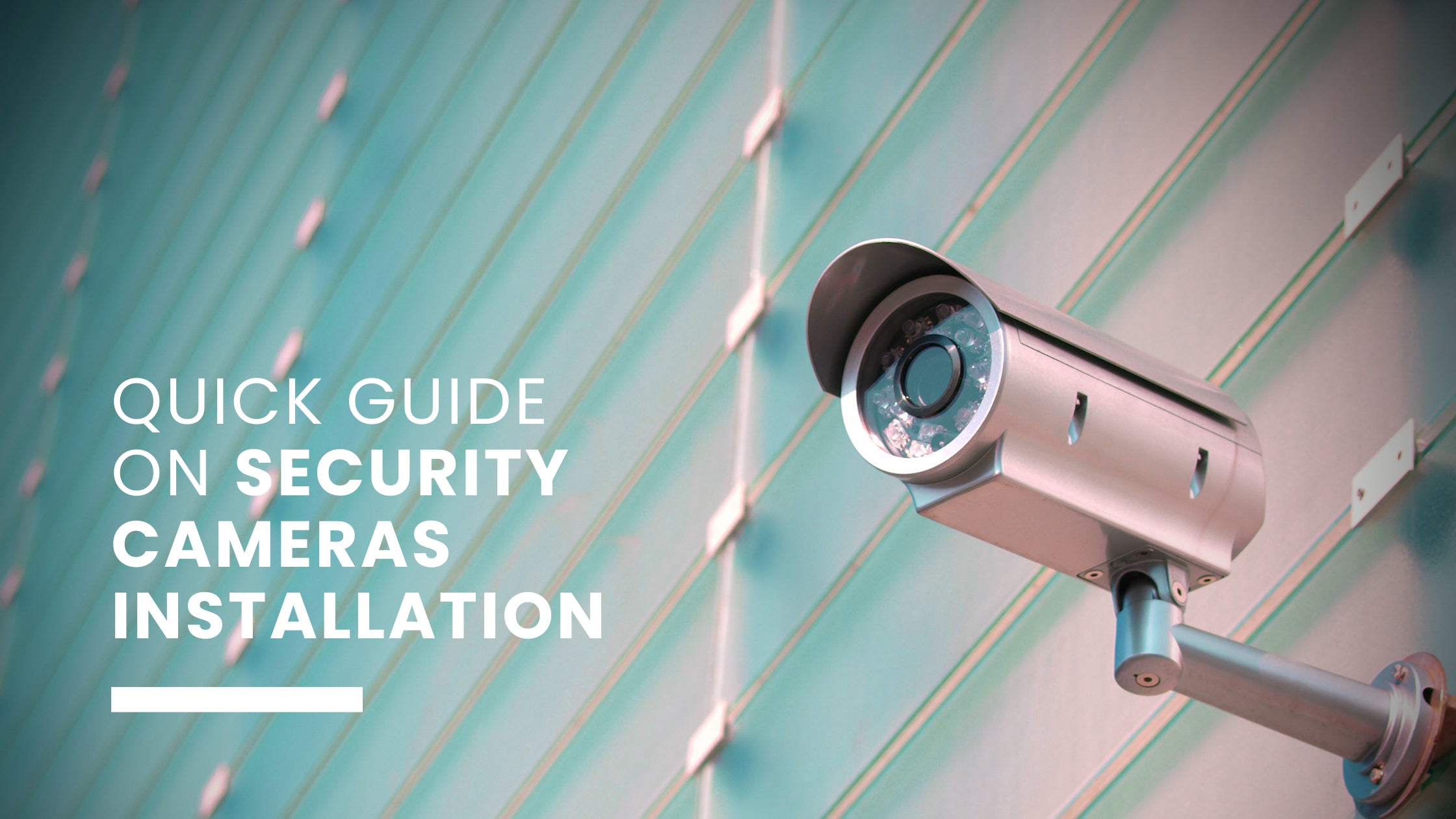 Not all cameras are built equal, some require an external power source, while others are battery-operated. Some require an Ethernet connection, while others require a SIM card. And some work without a hub or DVR, while others require one.
Over the years, we've tested and reviewed dozens of different types of home security cameras, and we've learned a thing or two about camera installation. Therefore, we compiled this installation guide for security cameras.
Tips for Positioning Home Security Cameras (Indoor)
Installing indoor security cameras on the first floor of your home is preferable.
If your building has multiple stories, consider installing cameras in common areas such as the main hallway and living room. In such situations, it is more likely that criminals' faces will be captured, making it easier to bring them to justice.
Install a camera immediately outside the master bedroom, as this is where most valuables are kept.
Mount the camera out of reach so an intruder (or even a mischievous adolescent) cannot easily destroy or disable it. This is especially important for cameras that store their footage on an internal memory card. Essentially, any area that can be accessed through doors or windows should be covered.
Place cameras in corners for the broadest possible field of view.
Additionally, install cameras on the stairs to track intruders inside your home.
Tips for Positioning Home Security Cameras (Outdoor)
Install outdoor cameras at the majority, if not all, of your home's entry and exit points. At minimum, your front and back doors should be protected.
Install outdoor cameras in non-street-facing windows, as burglars are more likely to enter through side or rear windows than through the front door.
Install surveillance cameras in the driveway, yard, and backyard.
To protect the privacy of your neighbors, avoid recording properties other than your own. While it is important to keep an eye on your neighbors, secretly recording their day-to-day movements puts the "nosy" in nosy neighbors. This is also unlawful and a violation of their rights.
Outdoor camera placement is typically more complicated than indoor camera installation, especially if the outdoor camera plugs into a wall outlet. You may need to use an outdoor plug or find a way to bring it inside. Wiring the camera directly into your home may also be an option.
Wireless cameras are typically simple to install, regardless of whether they are wireless indoor or wireless outdoor cameras. Obviously, if you use batteries, you should keep track of their average lifespan and when they need to be replaced.
Nevertheless, a battery-powered camera will ensure that your camera remains operational during power outages. Before selecting an outdoor camera, you must consider placement options regardless of the situation.
Installing Security Cameras
Now that you have an idea of where your cameras will be installed, it is time to install them. Each camera has a unique setup procedure, so we recommend taking things step by step. You wouldn't want to miss a step and have to start from the beginning.
However, this is typically how we approach installation:
Once you have ordered and purchased new security cameras, plan and diagram their placement inside and outside your residence.
After deciding where to place the cameras, take them there, mount them temporarily with a small nail or tape, turn them on, and briefly test them. If the cameras are functional, proceed with mounting them according to the original diagram.
If they don't work, at least you haven't wasted time installing products that you must immediately uninstall.
Following the installation of security cameras, access the livestream video feed on your mobile device or computer.
Customize your camera's settings, including its sensitivity to motion and brightness.
Confirm that everything functions properly.
Wireless Security Camera Installation
Mount the camera or simply set it on a flat surface.
Drill holes to mount the camera (most cameras come with the appropriate mounts).
Connect Wi-Fi to the Camera
Synchronize it with any other compatible connected devices, such as smart sensors or video doorbells.
Today, the majority of do-it-yourself installation processes have step-by-step instructions in their respective mobile apps, which we advise you to adhere to precisely.
Installing a Wired Security Cameras
With wired security cameras, placement options are limited, but the connections are more secure. However, installing wired cameras can be more complicated.
Wire it directly into your home. Drill holes, then run cables to each camera before mounting them.
When mounting a camera to a wall or ceiling, ensure that the attachment point is secure, which may require locating studs or using drywall screws.
Before drilling, always check for existing wiring to prevent electrical problems.
Mark and drill cable whole locations.
Install the wiring.
Install the camera.
Certain cameras include DVRs that can be connected via Ethernet cable or an AC adapter.
Conclusion
You may choose to install your own home or business security camera system; however, depending on the size of your system and whether it requires cabling, this can be challenging. If improperly installed, security camera systems may fail to protect your facility.
Hiring a professional security camera installer is a safe bet, as this will ensure that all camera systems are configured for optimal performance. Contact Mux Life if you are looking for quality security cameras and  installation of security cameras at home, and commercial spaces. 
Collection 2019
Sale 70% Off
Title for image